Articles
---
Making modular offices work
Making modular offices work
Warming Winter Moussaka
Bold and Beautiful
Fight negative feelings boldly
Stretch your electricity budget
GPM Services at Osona Village
Who is a good flower?
Spinach & Feta Phyllo Pie
Make it your own...
Bring nature onto your balcony
Initiate peace and calm with Koi
Meet the Agent, Harrold Page
City Improvements Districts introduced in Namibia
Property prices remain subdued
Am Weinberg Estate - A Touch Of New Class
RENT PRICES HAVE DROPPED AS OF MARCH 2019
RENT prices have dropped as of March 2019, the FNB Namibia rental index has shown.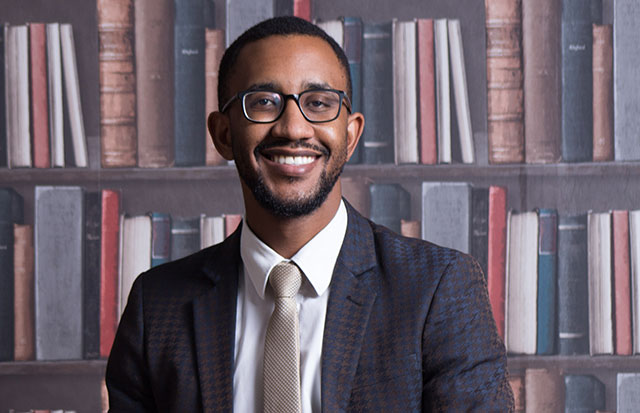 The index stood at a -5,2% during the review period.
The index released last week captured advertised rent charges, and indicated that growth has been hindered by sluggish economic conditions. This was due to weak disposable income because of the current recession.
As a result, rents fell across several sections with charges for one, two and three-bedroom apartments declining by -1,7%, -4,6% and -5,7% yearly, respectively.
Group economist Daniel Kavishe said charges seem to have declined as early as the first quarter of 2017, with current prices showing that the market is bottoming out.
Meanwhile, a three-bedroom property in affluent areas of Windhoek is being rented for N$10 695 per moth, while a two-bedroom property goes for N$7 023 per month. The average rent for a single room unit is currently N$3 620 per month.
Interestingly, three-bedroom apartments/houses were on average more than N$11 000 at the end of 2016, showing mounting pressure in that domain.
The rental index showed that properties with more than three bedrooms averaged N$18 086 per month at the end of March 2019. The calculated rent per room decreased from N$3 783 to N$3 581 over the past year. Meanwhile, the rent per room dropped by -5,3% yearly, compared to -11,6% in June 2018.
Kavishe added that the standard practice of requesting deposits from renters has loosened in the market, and average deposits dropped by 11,8% at the end of March 2019.
"A better indication from the market, however, is the deposit-to-rent ratio, which serves as a good measure of demand at a given time, with the assumption that a higher deposit to rent ratio denotes higher demand. The latest indicator shows that the ratio has tapered to 8,5% yearly, with the highest growth in the series experienced in 2015 when growth was 27,4%," said the economist.
He added: "In terms of investment, rental yields continue to wane amidst both lower rents charged and declining property prices. Under normal instances, declining property prices would push consumers to rent, resulting in higher average rents. However, with disposable income declining, overall prices have muted, resulting in yields dropping to 7,4% yearly at the end of March 2019."
RENT BILL
Kavishe added that the rent bill may be problematic to implement, and may not meet the needs of the current market, specifically given the current economic slowdown.
"Based on current data, rental yields are much lower than the proposed ceiling, which would mean the landlord would have room to push prices higher if the bill is instated in its current form," said the economist.
Trade minister Tjekero Tweya in November 2018 appointed a rent control board "aimed at regulating the rental market, with a view to prevent the current exploitation of tenants by landlords".
The establishment of the rent control board is in accordance with section 2 (2) and 3 (1) of the Rent Ordinance of 1977.
Twenty-five members were appointed to the rent control boards of Oshakati, Oshana region; Rundu in the Kavango East region; Walvis Bay and Swakopmund in Erongo; and Windhoek in the Khomas region.
– charmaine@namibian.com.na; Twitter: @Char_Ngatjiheue.
THAI COCONUT PRAWN SOUP
MAKING IT BEAUTIFUL
THEY NEED CARE TOO!
FNB NAMIBIA HOME LOANS AWARDS REALTORS
All good things


Stand a chance to win one of 2 prizes with Housefinder's Mother's Day competition!

One lucky House Finder reader will win a bouquet of flowers sent to your mom from you! and a meal for you and your mom!
Another House Finder reader will win a Skin & Hair treatment for your mom!
How to participate
1. Like AND share the post below
HISTORIC LANDMARK: AM WEINBERG ESTATE




Am Weinberg Estate's is probably, if not the most exclusive Estate in Namibia currently. It's been reinvented from the old heritage house built in 1901, which is now a national monument. Developed by Jimmey construction, it offers many desired amenities and breath taking views over the Klein Windhoek Valley.

One of Am Weinberg Estate's most distinctive features is a clock tower (see picture below), that creates an aesthetically pleasing impression as you enter the Estate. The sound of the traditional chime on the hour will create lasting memories of a tranquil environment with beautiful architecture. The large bell was manufactured by Master Craftsmen in Italy, and the wording on it reads: "When I stand before God at the end of my life, I would hope that I would not have a single bit of talent left, and could say, 'I used everything You gave me' "




Iconic
This iconic landmark development redefines estate living with breathtaking views and remarkable features. It offers everything you would expect and more, from state-of-the-art security to privacy and convenience while centrally located in the prestigious Klein Windhoek Valley. Am Weinberg Estate is a first in its class and stands out as one of the country's most attractive and sought after residential and business destinations.

Convenience

Two of Windhoek's top restaurants bring fine dining to your doorstep, giving you the choice of meat, seafood and vegetarian cuisine while enjoying glorious views and fine wine. The farm style delicatessen offers a variety of local and imported dairy and meat products, perfect for healthy ready-made family meals or catering for friends.

Nurture your body, mind and soul in the 5-star Spa and Beauty Salon, part of the award winning Spas of Distinction group to guarantee a professional high-quality service. Relax and unwind in this oasis of serenity under the guidance of skilled therapists. Alternatively release some stress in the fully equipped private gym with an exhilarating cardio and strength training workout.

The Am Weinberg Estate's elegant Boutique Hotel with historic yet modern charm provides exclusivity and privacy for visiting family or friends, and the perfect retreat whether on business or vacation.

Adding to your convenience this unique development offers on-site offices and high tech conference facilities enabling a healthier work-life balance.

Am Weinberg Estate is conveniently close to Windhoek's city centre and offers easy highway access to the Hosea Kutako International Airport. St Paul's College Private School is just across the road and Maerua Mall is a stone's throw away.

Living

Am Weinberg Estate features professionally designed north facing residential properties that invite comfort and exude modern elegance. Residents have the option of a Terrace House or Luxury Villa.

The immaculate double story Terrace House offers a perfect setting for relaxing and entertaining with a generous living area, private deck and patio. With three bedrooms and stylish finishes it a true gem.

The impressive Luxury Villa with its open floor plan encompasses four bedrooms, a home office and stylish gourmet kitchen that flows through to the dining room. The expansive living room opens up to a spacious front patio with a pool where you can entertain with the backdrop of spectacular views. In-house elevators are an optional extra in the Villas.

With its striking architecture, landscaped gardens and tranquil water features, Am Weinberg Estate is a place where perfection meets simplicity, and abundance meets joy. It's where you want to be!

Tranquil environment with beautiful architecture: www.amweinbergestate.com.na

For sales information and to schedule a visit to view the show houses please contact Madeleine Kanner.
Office: +264 (0) 61 300327 or
Mobile: +264 (0) 81 878 6024
Email: madeleine.kanner@jc.com.na

For commercial rentals and office space please contact Monica Pienaar.
Office: +264 (0) 61 300327 or
Mobile: +264 (0) 81 127 0413
Email: monica.pienaar@npr.com.na

Create a Couch From Wooden Pallets
We all have a need for a couch, but being pricey it is not always possible to afford one. Here is a way to create a couch from some old wooden pallets that would not cost you an arm and a leg. Also useful to place some books into.
Use Bookends as Floating Bookshelves
Have some old books laying around? Why not use it to make some floating bookshelves?
Klein Windhoek "old house" turned into modern architectural landmark




If you were driving from an easterly direction from Avis towards Windhoek's city centre along Sam Nujoma Drive two years ago, it would have been hard for you to miss the old white house on the corner of Sam Nujoma Drive and Dr Kwame Nkurmah streets, overrun with grass and weeds.

Then, slowly rising like the proverbial phoenix was a building which will, undoubtedly be one of Windhoek's most remarkable architectural landmarks.

Recently completed for Namibia's latest entry into the Diamond industry, Namib Desert Diamonds (NAMDIA), the "Eumbo" building as it has become known, has brought with it a fresh breath into the neighborhood of Klein Windhoek with many wondering what this architectural wonder is.

Designed by Kerry McNamara Architects Inc, one of Windhoek's oldest and leading architectural firms, it carries, with it the spirit of both liberation and reconciliation as portrayed by the late Kerry McNamara whose sons, Rowan and Kevan have now taken over the family business.

HISTORICAL BACKGROUND


The "Old White House" was the property of Danie Botha, a liberation struggle veteran and Member of Parliament (MP) in Independent Namibia's first Parliament in 1991. In the pre-independence era, it was a sanctuary for many struggle stalwarts who would be on the run from Apartheid South Africa's dreaded security apparatus. And sometimes it would just be a place where comrades, black and white would come together for more social gatherings.

The initial development was a collaboration between Danie Botha and Johann Opperman. The property was re-zoned from residential to office with an opportunity of free residential bulk.

The development brief was to maximize on this new zoning and its development potential. This resulted in a mixed-use development consisting of office space and residential apartments.

ENTER NAMIB DESERT DIAMONDS


Namib Desert Diamonds (Pty) Ltd is a diamond marketing and sales company, established in 2016 as a means of price discovery for Namibia's diamonds in the discerning world markets and to generate additional foreign currency revenue for the Government of the Republic of Namibia.

Operating from a rented property, NAMDIA's management saw an opportunity to invest in property which has potentially high return on investment; is safe for both its human resource and product and is a historical landmark.

Explains NAMDIA's Chief Executive Officer, Kennedy Hamutenya "When we saw the building in progress, examined the plans and reflected on the site's history, our reaction was simply WOW!"

And so the die was cast for NAMDIA's interest and eventual purchase of the property. It required the re-development of the brief to achieve NAMDIA's various aspirations and needs for the site and building whilst maintaining the inherent and existing design vision for the property.

URBAN DESIGN & ARCHITECTURE


Rowan McNamara describes the client's brief as "to explore a building that pushed the boundaries of architecture and urban intervention in a way that served its onsite users but also gave the urban environment and street edge, back to the public. A building that was aesthetically pleasing but also evocatively uncomfortable to really draw attention to it." Rowan continues that "you must drive or walk past the building and the experience must make a mark on your memory, make you look twice and want to know more, prick your inquisitiveness, talk about it and possibly return. It must tap into all your senses and capture at least one. This idea of a sensory sense of wonder and the idea of 'live, work, grow' formed a theme for the development and design going forward."

Eumbo*:
With the above design brief in place a name was needed to identify the building beyond just a street address. Kerry McNamara Architects came up with the name "eumbo" and the client was enthralled by it. This name encapsulated many of the historical and future development and design intentions of the project.

Meaning of 'Eumbo' – In rural areas each Owambo family lives in its own kraal or eumbo, which is enclosed by a wooden fence. The houses are situated inside this fence and can be either round or square thatched huts, outside of the fence are the family's lands. In the center of the eumbo is the family sacred fire (omulilo gwoshilongo) which is kept burning at all times.

Urban Design:
The site and building as a symbolic gateway & entrance to the city. At an urban design scale, the form and orientation of the building purposefully responds to the environment, to the city and street as a whole and so to the existing street user 'pedestrian' and building user.
The building addresses the street purposefully forming the first real on-street edge architectural expression as visitors enter Windhoek from the east. At an urban scale, the building itself serves the public whilst still maintaining its core function of the user. Artwork, benches, sculpture and a memory wall add to the public realm rather than being insular.

Architecture:
An architecture that captures, gives, invokes emotion and expresses events, memories and stories.
The shapes and relationships of the building reflect a considered response to major issues that affect the nature of a "well-built environment" and that of the particular site, its planning constraints and the wellbeing of the inhabitants and passersby.

One of the major features in the design of the building is the economy of a pleasant working environment for the users of the building. The users, in this case the administration and office staff, have continual visual contact with the outside. This is an important feature for the occupant, and is also relevant to Windhoek and to the Namibian mind and psyche. The "humanising" effect of such spaces contributes to pleasant working conditions and low staff turnover, inducing employee efficiency, commitment and involvement.

Another interesting design feature is the 'memory wall' on the edge of Dr Kwame Nkrumah Avenue.
This wall in concept consists of a "portion" of the old house containing two of the old steel windows as part of the memory of the past. Pedestrians can pass behind this wall under the colonnade and look out through the windows back at the street as if being in the 'old house'.

Green Design:

All finishes externally and internally have been considered in their longevity and aesthetic appeal to the user. Modern mechanical & electrical features such as light sensors, solar panels and low energy ventilation re-inforce the sustainability aspect of the design.

Ground floor Street Art Façade:
One of Namibia's leading photographers Amy Schoeman assisted with the ground floor graphic street facing image. The architectural application of the image on the façade has resulted in a striking façade on the ground floor that locates the building to Namibia whilst capturing the imagination and attention of the passer by.

Ground floor Street Sculptures:
A further item was an external sculpture of a person or persons on the corner of the site. This sculpture has the intention of adding to the above overall concept but also the need for it to be become iconic, possibly a must on the tourist route. The corner of the site has extreme exposure and the site forms a first impression or gateway landmark into Windhoek from the East as one arrives or departs. The sculpture of two dancing girls (yet to be installed) will be accessible at a glance (people driving past) and will leave the viewer wondering whilst also engaging pedestrians passing by at a human scale.

INTERIOR DESIGN


Olga Grosse-Weischede and Veico Bonhof of Creative Collide Design Consultants were tasked with the interior design of the building, requiring that the layout, space planning and functionality of the building met the client's criteria.

"We had to conduct an institutional review into the client, the diamond industry and Namibia's history to fully understand the task at hand and to execute it with professionalism and insight", says Olga Grosse-Weischede.
With that in mind then, the look and feel was created by using images, colours, shapes, materials that related and were applied either in the ceiling, on the walls, or on the floor. "Be it the edged lines of a cut diamond, the texture of split rock, or the colours of the dunes as well NAMDIA's corporate colours – these key elements were repeated so that a image of NAMDIA would be present throughout the building interiors, whilst keeping a sophisticated, modern and clean approach to the overall interior", Olga says.

A FINAL WORD

For Usi //Hoebeb, Communications strategist for NAMDIA, this building represents NAMDIA's aspirations of innovation, visionary direction, historical appreciation and a people's desire to be in charge of its own destiny.

NAMDIA's CEO, Kennedy Hamutenya concludes that "we cannot and will not compromise on the safety of our people working in Eumbo and whilst it is an aesthetically appealing building it is also practically perhaps the safest building in town, with the latest state-of-the-art security features to protect both our greatest assets - our staff - and Namibia's natural resources - diamonds."

Eumbo has been completed with just the snag list being finalised and should be commissioned soon, whereafter we are looking forward to its official opening.

Contact:
Usi Hoebeb Communications
jezreelbrains@gmail.com
Photography:
www.mizureworks.com


Are they splitting on you?

After spending time and effort on nurturing fruit trees, waiting to enjoy the yield, nothing can be more discouraging than fruit splitting before they are completely ready to be harvested.


Figs
The main reason here is one the gardener has no control over: moisture. Above average rainfall or humidity just as figs approach maturity cause the fruit of most varieties to crack and split, more often during the night when evaporation is reduced. At Namibian coastal areas with a sharp fluctuation in humidity levels, this can be a problem. Cracking is caused by high water levels in the entire plant. The relatively weak structure of the fig fruit, which is actually an extension of the tree's stem tissue, shows the effect of this high pressure by splitting open. Slight splitting however is normal in soft, ripe fruit ready to be picked.
Figs, of course, need full sun – at least 8 hours of direct sunlight per day. Early morning sun is especially important to dry morning dew which can cause various fungal diseases. Figs trees normally don't require much pruning, but it would make it easier for air to circulate and help the leaves to evaporate excess moisture more effectively. Trim back to five or eight main leaders, spaced well apart. Pruning may reduce the overall yield, but the resulting crop is usually of high quality.
Pomegranate and Navel orange split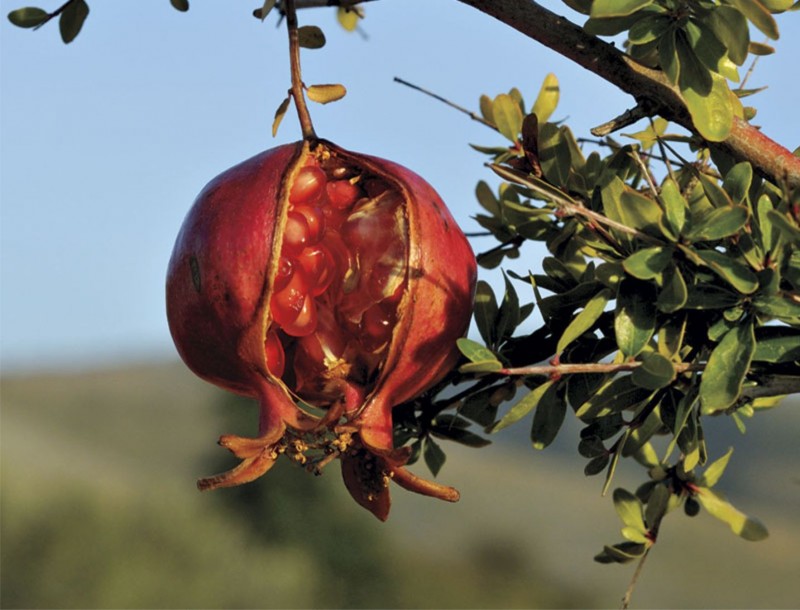 As with figs, it's an abiotic disorder, a problem that cannot be attributed to any living organisms, such as insects or plant pathogens, stemming instead from environmental or cultural conditions. Being a physiological problem, no chemical control is possible.
Splits are most likely to occur when water and sugar are transported from the roots of the tree to the ripening fruit, and the rind is unable to expand quickly enough to accommodate the added volume. Consequently the rind bursts open under the pressure. Thin skin varieties are usually more prone and rinds that have been sunburned or otherwise damaged may be less elastic and more apt to split.
Stress, such as extreme fluctuations in temperature, humidity, soil moisture and possibly fertilizer levels can lead to fruit splitting – a combination of these factors rather than by a single cause. For example, when hot weather is combined with high winds, the tree becomes drought stressed and begins to take water from the fruit, causing the fruit to soften and the leaves to cup. If this is followed by heavy irrigation, the dehydrated fruit swell, causing them to crack. If such conditions subside, rather irrigate lightly for a few days before resuming a normal irrigation schedule. A lack of sufficient potassium can also be a reason for weak fruit cells.
Fruit trees should be fertilized every three months with a balance slow release fertilizer. We recommend Efekto's 3:1:5 slow release fertilizer, supplying nutrients at an even rate over the length of the growing season.
Damaged fruit dropping from trees should be discarded as they may harbour fungi, bacteria, insects or other unwanted pests.
SOIL PREPARATION cannot be stressed enough. Do not skimp on organic matter such as compost or coco peat for effective retention of moisture and nutrients. Trees planted in sandy or porous soil that do not retain moisture well, will be more susceptible to fruit splitting. Always plant with Efekto's Bone meal or Superphosphate to ensure a healthy root system.
Text: Maria Nel from
Ferreira's Garden Centre.
Tel: 061-234900
Riaan Momberg: Efekto
Tel: 081 124 0288
Mango & Spinach Salad

This salad is perfect for this time of the year when we get loads of mangos. Curry and mango are a great combination, so don't be put off.
Ingredients:
2 Ripe mangos, peeled and sliced into wedges
1 Packet of baby spinach leaves
Half a red onion sliced very thinly
1 Packet bacon cubes
Half a cup of roasted, salted cashew nuts
Mild curry powder
Method:
Fry bacon bits until crisp and the cool them down to room temperature
Sprinkle a little curry powder on the mango wedges.
Assemble the salad starting with the spinach, top with mango, add onion rings and bacon and sprinkle with cashew nuts
This salad is really good served with a honey mustard dressing.
Mistakes made by pool owners


With it still being very hot in Namibia we get regular requests for a "once off pool clean". We often find the following mistakes leading to the pool owner not getting his pool water's chemical balance right.

Thinking you're are a Water Park
If you are regularly hosting huge pool parties, you should probably adjust the way that you are treating your pool. The more bodies that are in a pool, the more chlorine and pool chemicals you are going to need to keep things in balance. Before you have a number of people over and immediately afterward, you should use extra chemicals to reset everything. You should also take extra time to clean your pool by cleaning your filter via a proper backwash.

Letting "Butch" In
Many pets love playing in the pool, but their fur and all of the mud on their paws is not very good for the state of your pool. If you are going to allow your pets in the pool, you should put cover over the entire pool the moment that they get out. The day after you let your pets jump in, you should clean your filter and skimmer basket to keep the hair completely out of the pool.

Leaving Your Pump Off
Leaving your swimming pool pump turned off might save you a few N$, on your electric bill, but there's a good chance you'll be taking that money and simply spending it on chlorine and pool chemicals later. Since a properly installed swimming pool is made to keep itself clean with pumps and filters, turning those things off or taking them away can throw everything out of balance. Always leave your swimming pool on for at least 7-8 hours a day, especially during the summer months and periods of heavy use. A pool pump being switched off for long periods in time will definitely get damaged as the water standing in the pump has chemicals like acid which ruins for example the mechanical seal.

If you want more info on how to get the maintenance bill of the pool down kindly contact us at the LIC pool shop in Macadam street Windhoek

Tel: 061-232839 Fax: 061-238602
Email: info@licpool.com
www.licpool.com



Do renovations increase the house price?


Whether you are renovating your house to create more space, rejuvenate or to put it in the market, getting to grips with how renovations impact the sale price will help you make an informed decision.

Many consumers mistakenly assume that when you invest in renovations, the money spent will be regained when selling the house. However, not all renovations you make will necessarily increase the value of the house. For example, adding an expensive swimming pool can often be a disadvantage due to the required maintenance. As a result, some potential buyers may not be willing to pay more for it and would have preferred to have the extra space instead.

Here is a list of renovations that can potentially increase the value of a house in lower to middle income neighbourhood:

Kitchen and bathroom alterations – these renovations add significant value as bathrooms and kitchens are regularly used by consumers.
Garage – having a garage increases security in your house and can also reduce your car insurance premiums.
Energy saving features – as the cost of electricity continues to increase; many households are looking for efficient means of saving. Therefore, energy saving features like a solar geyser will add significant value.
Automatic gate and garage door – these additional features increase security and convenience in a household.
Cottage – cottages and outside rooms are useful if you are staying with your domestic worker. The rooms can also be rented out to generate extra income for the family.
Storeroom – having storage space can give you an advantage when selling the house. Every household needs space to store important household content that are not used regularly.
Also be careful not to over-invest in renovations that may result in your house being overpriced, compared to other properties in your neighbourhood. You may find it difficult to attract buyers, and eventually have to sell at a loss.
Lastly, don't try and cut costs by hiring unqualified renovators. Poor workmanship will cost you more in the long-run and may require the job to be done all over again.
If you are unsure about the current value of your house, you can consult the bank or a professional valuator to assess it for you. You can also get a free value estimate through the FNB Banking App and online.
For more information please call Tel:(061) 299 2222 or visit www.fnbnamibia.com.na
DIY Planter & Candle Holder
Fire Pit

Introduction
Outdoor fires are so hot right now. These days people are going ultra-retro and getting their heat from stone-walled pits set into the earth. And, why not? On cool summer nights, you can melt marshmallows while you lounge in a chair, feet propped up on the rock ledge. Or just chill with a group of friends or your family with a glass of red wine, or your favorite beverage. So if you really want to light up right, do it in style. Take a few days to build your very own ring of fire.



Overview
A built-in fire pit is a glorified campfire, with sturdy walls of stone that help contain the flames and heat. That's especially important in the parts of the country where there's a risk of bush fires. So the first task in building any fire pit is checking local codes on open flames. The pit must be located far from overhanging trees, the house, and any other flammable structure.
To make building stone walls easier, you can use blocks made from cast concrete and molded to look like real stone (available at any home center). They're flat on the top and bottom so they stack neatly, and some interlock for added strength. Glue them together with masonry adhesive. Choose a block with angled sides, meant to form curves when butted against each other. The optimal size for a fire pit is between 2 and 3 meter inside diameter. That will create enough room for a healthy fire but still keep gatherers close enough to chat.
As an added precaution, the fire pit should be lined with a thick steel ring like the ones used for park campfires. These protect the concrete in the blocks from the heat, which can cause them to dry out and break down prematurely.
A fire pit should sit low to the ground, with walls rising no more than a foot off the ground. But for stability, the base of the wall must be buried below ground in a hole lined with gravel, providing drainage and protecting against frost heaves in winter. the gravel also creates a level base for the stones to rest on. Most concrete blocks are about 130mm high, so if the first course and a half sit underground, and there are two and a half courses above ground with a cap on top, you'll end up with a foot-high wall—just right for resting your feet on while sitting in an outdoor chair.
Step 1: Lay Out the Blocks
Dry-lay a ring of blocks on the fire pit site, placing them end to end until you have a perfect circle positioned where you want the finished pit to be. To adjust the size of the circle, you may need to cut a block. Hold the block over the gap it will fill, then mark it on the underside at the proper width.
Using a cold chisel and a brick hammer, score the block on the mark, and continue the score all the way around the block. Place the block on a hard surface (flat rocks or gravel). Hold the chisel in the score line, then hit it with the brick hammer until the block splits.
Clean up jagged edges with the tail of the brick hammer. Place the cut block into the ring.
Step 2: Mark the Pit Location


Make sure all the joints between the blocks are tight and the front and back edges line up. Using a spade, mark a circle in the ground about an inch outside the perimeter of the ring.
Take note of how many stones make up the ring, then remove them and set them aside.
If the blocks you are using are interlocking, remove any tongues on the bottom of the first-course blocks so they will lie flat in the trench. Chip them off with the tail of a brick hammer.



Step 3: Create a Level Trench for the Blocks

Using a spade, dig a straight-sided trench, 150mm deep and as wide as one block, within the circle marked out on the ground. Then dig down 80mm in the area encircled by the trench.
Lay the ring of blocks in the trench to see if all the pieces fit in a circle. If not, dig more to widen the trench. Remove blocks.
Step 4: Fill the Trench

Fill the trench with 80 mm of 16 mm drainage gravel. Using a hand tamper, compact the gravel. If necessary, add more gravel to keep the trench level and even.
Always make sure the blocks line up perfectly in the front and back when you lay them out; a difference of 20 mm in the circle's diameter could create a 75 mm gap between blocks.
Step 5: Lay and Level the First Course

Place the first block in the ring. Using a level, check that it sits level both side to side and front to back. Where the block is too high, tap it down with a rubber mallet. Where it's too low, shim it slightly with a handful of patio base. Make sure this first block is perfectly level and positioned correctly in the trench before moving on.

Lay another block next to the first one. Butt the sides together tightly and line up the front and back edges. Using the first block as a reference, level the second block side to side and front to back.

Lay the rest of the blocks in the trench in this manner until the ring is complete and all the blocks you counted earlier are used. Make sure each block is perfectly leveled and lined up tight with its neighbor before moving on to the next one. (You may have to coax the last block into place with a mallet.) Using a larger level, occasionally check level across the ring.

A small hit with a mallet can make a big adjustment; work slowly and carefully, block by block.
Fill the pit with 100 mm of gravel, which will help support the first two courses as they set up. Glue and lay the third and fourth courses, continuing to stagger the joints.

Insert the iron campfire ring into the circle. Adjust it to sit even with the top of the block wall. Fill any space between the ring and the block wall to the top with gravel.

Work quickly and only in a small area at one time; masonry adhesive sets up quickly.

Loosely arrange the cap pieces on top of the pit walls. (If you are using natural stone, try to arrange the pieces together like a puzzle.) Lay one stone edge over the next and mark the upper stone where they meet. Also, roughly mark the stone for a 50 mm overhang on the outside of the circle and 25 mm on the inside. Using a brick hammer and a chisel, score the stone on those marks. On thick natural stone, use a grinder fitted with a diamond blade to score it more deeply.

Lay the stone on a hard surface. Split it by hitting a chisel in the score mark, or by tapping against the stone's edge with the brick hammer until it breaks. Score and split each stone this way, moving around the circle in one direction until you've made a cap that fits together tightly.

If you're using blocks, glue the pieces on top of the wall. If you're using natural stone, combine the dry mortar with enough bonding additive—not water—to make a mix with a peanut-butter consistency.

Wet the wall with some bonding agent. Lay a large mound of mortar on two blocks. With the point of the trowel, make a groove across the mortar. Lay the capstone on top, push it down, then tap it with the rubber mallet to set and level it. Continue to lay the capstones in this manner until the wall is finished. Wait two days before lighting a fire.
5 Tips for revamping your finances
Pruning of Roses and Fruit Trees
Country Wide Pool Maintenance
Harissa & Quince Chicken
Main housing affordability ratios
Planning to sell?
Warming up this Winter
Baked Apple pudding
Often overlooked
Coming soon
Hot trends for kitchens
Launching a lifestyle
Making use of an estate agent
When Children are born outside of marriage
Sustainable Water Management Systems
Good old potato bake
Alas, mostly unwanted!
Go on, be a lazy boy!
Bracing yourself while watching your money grows
Trou is nie perdekoop nie
Stay ahead of the Game with your Family
Easy tips when House Hunt
What to do when water restrictions are affecting your pool
Harping on the same string...
Asian Salad
9 Security hacks for the holidays
Trouble with the neighbours?
House Anderson
Christmas Oreo, Nutella & Strawberry Trie
The Patio
8 Ways to Protect Your Home While You are on Holiday
Your questions about mediation answered
A pool with a view
How to handle your pool during Namibia's dry period
Banting Bread
Aloes and their woes
Fine & Country
Buying an existing property
Custody and parenting plan mediation
Quality products in the pool industry
Rocket pesto
The fruits of our labour
Fresh for Spring
Tools homeowners can't live without
One-stop shopping at Lic Pool
Ferreira's garden centre
Spring Asparagus tart
Manrico Select
FNB Homeloan - Home Ownership
Is a mediator the wizard in facilitating that elusive solution
Tips & Tricks for a no-worry swimming pool
Marshmallow bars
Take care, before there's not a drop to spare
Officeconomix
FNB to offer renovator's boom
Should you mediate?
Pool re-line / renovations
Stuffed and slow-roasted deboned beef shin
Nobody promised you a rose garden?
For the love of design
Selling and pricing your property
Little voice inside...
House Janse van Rensburg
Wellness treatments in the comfort of your home
Want some hot stuff, baby, tonight?
Father's Day sosaties
Diligent and hard working..
Steadfast growth over 10 years
Smart strategies for first-time buyers
Co-operating with your ex
Pool services during the winter
Thai green prawn curry
Townhouse Pool Paradise
Rise From Renting To Buying
Divorce - Negotiate Your Financial Settlement
The Valley Is Alive!
Hi-tech Heating Systems
Cauliflower Pizza Base
Gimme Gimme...a Shady Affair
Furniture to fall in love with..
Buying a "fixer upper"
Happily ever after
You don't have to be...
Add interest to your pool & garden
Vietnamese Stir-fried lemongrass beef with noodles
Tips to help your adult child buy their first house
How to fight fair
Mega centre
Too much too soon
Our Namibian climate and our outdoor furniture
Home is were the heart is
Buying a holiday home
Making a divocre work out
Summer Pasta Salad
Don't worry your pool is not leaking!
Repair your property before selling
Your questions about mediation answered
Peace in the city
Purple haze
Chicken liver pate
Your pool after winter
Chewy Gluten-free Cookies

A Bicycle Made for Two
One Stop Shopping at LIC Pool
Plan ahead for home ownership
Family Law and Divorce Mediation
Housefinder is Hiring!
Celibrating Father's day
Medical School of University of Namibia
Property Development Investment